Sing Harmonies App for iPhone, iPad, and Android
     I created the Sing Harmonies App over ten years ago. It's available in iOS and Android versions. You'll find the most up-to-date song info and tech support at the main Sing Harmonies site.
     Quick tip: If you're having any difficulties with the iOS and Android versions please update to the newest version.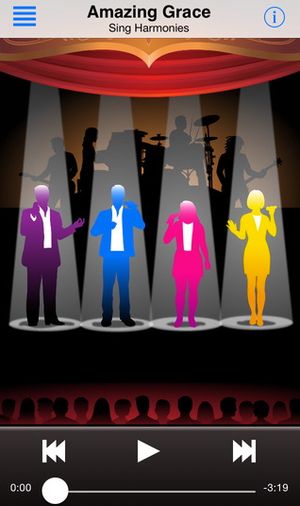 Sing Harmonies can help you learn to sing harmonies and polish your harmonizing skills. You can mute or play any or all of the parts while the song is playing. That means you can just play one part to learn it, then you can just play the remaining parts so you can practice singing your part with the other voices. Or you can play your part at half volume if you need a bit of help.

The app is great for learning and practicing harmonies. If you want to learn how to sing harmonies by ear I'd recommend that you use my method Harmony Singing by Ear.
I came up with the idea for the Sing Harmonies iPhone App in 2010. I arranged the vocals, then my husband Tom Manche produced all of the songs at his studio Studio X. My friend Paul Schatzkin connected me with Firefly Logic here in Nashville, who turned it into a real app. Firefly Logic is no more, so we are now working with new developers.

The iOS version comes with three songs, all in 4-part harmony: Lean On Me, Proud Mary, and Teach Your Children. The app costs $1.99 and works on iPhone, iPad, and iPod Touch. In addition to the app's three songs there are 48 more songs available via in-app purchase, all in four-part harmony. The song list, keys, and arrangement info are all here.

Click here to check out Sing Harmonies iOS at the App Store. 

We released an Android Version of the app several years ago. The Android version comes with three songs, all in 4-part harmony: Lean On Me, Swing Low Sweet Chariot, and Teach Your Children. The app costs $1.49 and works on many Android devices.
Click here to go to check out the Android version of Sing Harmonies at the Google Play Store.
Click here to go to the Sing Harmonies web site. It has detailed song info and most current tech support.
Here's a video, starring the old 2.0 version of the app and my left hand, that shows you how it works:
Please Join the Email List
Newsletters are sent 5-6 times a year and your information is never shared. Join the Susan Anders/Zanna Discs email list for Susan's newsletter, with singing tips, singing product information, sale notifications and upcoming vocal workshops and shows with Susan.